Our mission encompasses finding work for individuals with disabilities, including those with the most significant disabilities for whom competitive employment has not traditionally occurred. We believe that work gives everyone, especially those with disabilities, purpose, and dignity, and it helps them achieve independence and economic self-sufficiency.

We strive to empower people with disabilities and assist them in achieving the American dream of independence and economic self-sufficiency. We make this possible through a myriad of employment programs and strategies we provide. The Arc employs 89 people with intellectual and developmental disabilities.
Vocational training occurs at our Work Services Program. We secure contract work from businesses. Participants work on contracts such as assembly, kitting, sorting mailings, and labeling.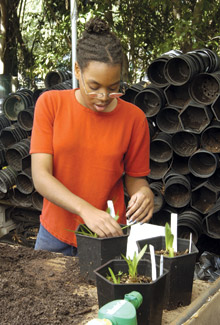 The Arc has enclaves throughout the community. An enclave consists of a small group of participants who go to businesses and complete jobs with staff assistance. We currently do recycling and janitorial work.
In addition to work done for businesses our workforce makes all-natural dog biscuits, and buttons for marketing, and can print materials for businesses with a high-capacity printer.
The Arc also helps people with any disability to find jobs throughout the community. Once a job is secured, we train the individual and then fade out of the job site, only returning in order to ensure success at work.

Through partnerships in the community, The Arc empowers people with disabilities to realize their dreams of independence and economic self-sufficiency and connects employers with skilled and motivated workers.